IMPORTANT: A Certificate of Completion from the associated educational institution partner will issue once Candidate has been placed with a Ready to Work employer partner and continuously employed with the same employer for no less than 90 days. Candidates will also be eligible to sit for the related national certification exam once this requirement is met.
Ready to Work
Included with your program, Learners have access to FREE Career Services and Job Placement Assistance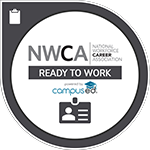 Earn your NWCA Ready to Work badge and get noticed!
Employers REALLY value this credential and there's always more to learn at

FREE Access to our exclusive Learning & Career Services platform at CampusEd®
Build your online profile and create a professional resume to demonstrate your skills and achievements to local employers
Choose from thousands of digital badges, credentials and other certifications to add to your CampusEd® profile

Example ONLY. Badges available will differ depending on candidate program and qualifications.
Access over 3,000 eLearning modules right at your fingertips to keep sharp and gain new skills
Access free resume writing guidance and job placement assistance from CampusEd® Pro Advisors looking to help you get started
Search for and apply to jobs with over 40,000 employers nationwide looking for candidates just like you!